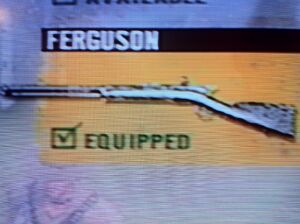 Ferguson rifle

Weapon:

Rifle

Damage:

9 / 10

Fire rate:

8 / 10

Reload:

6 / 10

Level unlocked:

Hollister's Fort

Previous Owner:

Ned White, Sergeant Hollister
The Ferguson rifle is a weapon found on the game. The rifle is used in the first level, The Hunt, to kill a grizzly bear. However, the weapon does not become Colton's until the Hollister's Fort level. It used to belong to Colton's father, Ned White, before it was taken by Sergeant Hollister after the steamboat explosion.
A Flintlock Rifle called the "Ferguson" is Ned White's gun of choice. It is depicted as have the fastest rate of fire. Hollister takes this rifle for himself when Ned is killed. Colton takes it from Hollister when he is blown up with dynamite, using it to kill "Reverend" Josiah Reed.