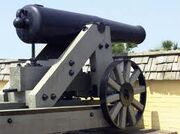 The cannon is a large weapon featured in gun. Cannons are one of the oldest weapons in the world that are still in use today. First developed in China, cannons have been used in warfare since the Middle Ages. Cannons were accompanied by at least five men. During the 1770s each cannon would be manned by two gunners, six soldiers, and four officers. The right gunner was to prime the piece and load it with powder, and the left gunner would fetch the powder from the magazine and be ready to fire the cannon at the officer's command. On each side of the cannon, three soldiers stood, to ram and sponge the cannon, and hold the ladle. The fifth soldier provided cannonballs. During the American Civil War cannons became larger, more destructive, more accurate, and could fire at longer range. One example is the Griffen Gun used during the American Civil War which had an effective range of over 1.1 miles.
Section heading
Edit
Write the first section of your page here.
Section heading
Edit
Write the second section of your page here.